I often wish San Diego culture was nerdier. And with Vernor Vinge hailing from here, the man who brought us the concept of the Singularity as such, it really should be.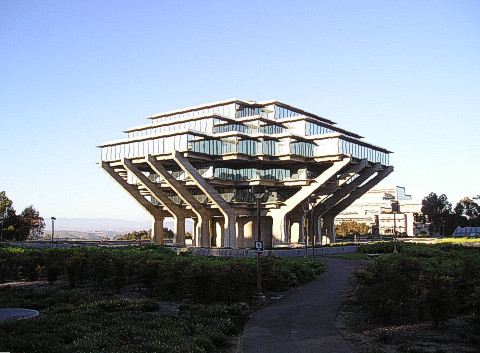 No, not a UFO. The UCSD library, which features prominently in Rainbow's end, is named after Dr. Seuss (his real name, anyway, Theodore Geisel.) It's like living in the not-too-distant future!

For some time I'd somehow missed Vinge's
Rainbow's End
. It's a fun read about living in the pre-Singularity End Times, and it's especially fun if you know San Diego well. Of course I liked the focus on UCSD, although
he didn't talk nearly enough about how awesome the medical school is.
I also don't like that the devastating earthquake was the Rose Canyon quake. Since I live on Rose Canyon. That said, Rainbow's End isn't quite as packed-to-the-gills with thought experiments and subtle instantiations of social and political ideas as the excellent
Deepness in the Sky
, but it's still well-worth your while.
Get more future San Diego in this SD City article about
"America's Final City"
.